June 25th is the Day to Save in Your Calendar!
Bring Your Family and Friends and join Living Green Recycling at the             4R Summer ECOFEST  2011, FREE Commuity Event in Rancho Santa Margarita!
Summer Fun and great Living Green Ideas await Kids and Adults!
It's a FREE Event, Open to Every one in the Community!
See this link to view the Event Details: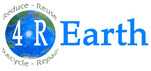 Living Green Recycling will join with other green eco-vendors at the June 25th , 4R Summer ECOFEST to celebrate Living Green today!
Living Green Recycling will accept and collect any and all electronics, peripherals and anything used by electronic or battery powered devices.   We are often asked, "what can we bring to your event"?   The truth is just about anything with a plug or battery powered, and anything used by these devices istypically acceptable; the list of what we cannot accept is very small, limited primarily to large appliances and flourescent bulbs – (contact us for where you can recycle these items).
See our info page at the 4R Summer Ecofest website below:

For information, email us at; LivingGreenRecycling@gmail.com or call toll free at 866-674-3177 ext.100
See You There!