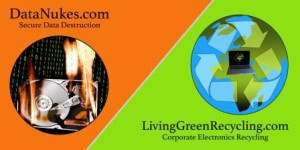 Are old electronics taking up space in your office or warehouse? Not sure what to do with the hard drives you have stored because of the data that is still on them? If so, then come by the FREE BUSINESS ELECTRONICS RECYCLING AND DATA DESTRUCTION event held at the Alton Marketplace on Friday, May 15, 2015 from 9am to 1pm. The drop off location will be the corner of Technology Drive and Alton Parkway.
The event is being hosted by the Irvine Company and is open to all businesses and organizations in and around the Alton Marketplace. Living Green Recycling and Data Nukes, Inc. will be providing the electronics recycling and data destruction services. The event is free for businesses and organizations and will provide a convenient way to dispose of unwanted electronics. Free data destruction for all data containing devices is included; and for those businesses that require it, a written certificate of data destruction can be provided for a fee.
Come by and responsibly and securely recycle your unwanted electronics!
Most types of electronic devices and peripherals will be accepted, including:
Computers – all types (servers, towers, laptops, tablets)
SMART phones, cell phones, cell phone peripherals (including cell phone batteries)
Network equipment
LCD monitors and TVs
CRT Monitors and TVs
Telecom equipment
Cables and Wires
UPS back-up systems and all re-chargeable type batteries
Printers, toners, ink cartridges
Data Destruction will be provided at no cost to all participants.
 Includes all computers – all types (servers, towers, laptops, tablets)
 Includes all hard drives (Loose and external drives)
 Includes all SMART phones and cell phones
 Includes all USB flash drives and SD card type storage
Look forward to seeing you:
                                       Friday, May 15, 2015
                                       9am to 1pm
                                       Alton Marketplace at the corner of Technology Drive and Alton Parkway
If you can't make it to the event but are still interested in our electronics recycling or data destruction services, or if you have any questions, feel free to contact us.
Note: No alkaline batteries, light bulbs, large appliances, or toxic waste can be accepted.